We Hope Your Day Is As Smooth As Your Forehead
Collagen, hyaluronic acid, and elastin are natural components that work wonders for maintaining the quality of our skin. However, the unfortunate news is that factors such as our lifestyles, sun exposure, genetics, and even the natural process of aging tend to diminish the production of these vital substances. Thankfully, cosmetic solutions do exist and can help you slow down this process and enjoy your youth just a bit longer. Here at BodyLase®, we offer a range of injectables & fillers designed to tackle your aging signs and improve your confidence.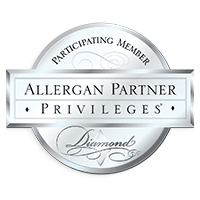 How Do Injections Work?
BodyLase® is in the Top 1% of BOTOX® Providers in the United States and is proud to be an Allergan Diamond Status Provider!
What Injectables & Fillers Does BodyLase® Offer?
BOTOX® Cosmetic
Our BOTOX® Cosmetic injections are an excellent choice for erasing forehead wrinkles as well as wrinkles around the eyes, mouth, and nose. Injections take 45 minutes to perform and treatment results last 3-4 months on average.
JUVÉDERM® Dermal Fillers
These hyaluronic acid dermal fillers are a great choice for easing collagen loss, improving facial volume, and plumping the lips. Injections can be done in 45 minutes and the results tend to last for upwards of 12-15 months.
RHA® Fillers
These resilient fillers are an excellent choice for reducing dynamic wrinkles and folds on the face. Injections take roughly 45 minutes to perform and results tend to last upwards of 15 months.
RADIESSE® Filler Formula
Our RADIESSE® formula is great for plumping wrinkled and folded areas of the skin, providing natural-looking results. Injections can be done in 45 minutes and results can last for up to a year in some cases.
Injectables and Fillers in Raleigh & Cary
If you're interested in learning more about our fillers or injectables, we welcome you to schedule your consultation today. Get started by calling (919) 954-2288 to book in our Raleigh MedSpa office or (919) 851-8989 to book in our Cary MedSpa office. You can also book online by filling out and submitting the appointment form below.