Fraxel Laser Treatment in the Raleigh & Cary Areas
BodyLase® is pleased to be one of the first in the Raleigh-Durham-Cary area to offer the revolutionary Fraxel laser. Considered one of the most exciting advancements in skin rejuvenation, Fraxel laser treatment is an innovative new way to correct aged and damaged skin – without the prolonged downtime or adverse reactions of other resurfacing procedures.
Remove years from your appearance! No surgery required!
Safe and effective, the Fraxel Restore laser is cleared by the FDA and is the accepted gold standard for treating the following conditions:
Acne scars
Wrinkles
Melasma (mask of pregnancy)
Irregular skin texture
Surgical scars
Sunspots, age spots, and irregular pigment
Testimonial
"I have been working with BodyLase® on my Fraxel laser series. My nurse is a quintessential professional who strives for the best possible result while providing a personal and engaging experience. BodyLase® is very client/patient-centric in culture – making sure each client is comfortable and well-cared for. Having been to many spas/treatment centers in the Triangle area, I honestly feel BodyLase® is the true diamond in the crowd favorite due to their stellar professionalism and commitment to appropriate care and treatment." ~ Casey D.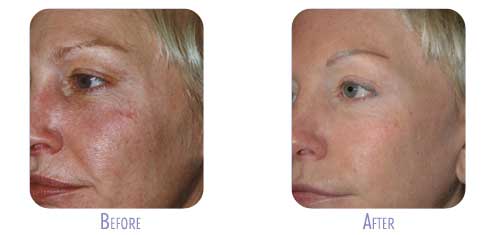 Fraxel Laser Treatment.*
Photo Courtesy of Dr. Simeon Wall Jr.
With Fraxel Restore treatment from BodyLase® , you get dramatic results without going under the knife. Instead, the Fraxel laser uses tiny points of light to precisely treat thousands of microscopic areas of your skin. The laser penetrates deep into the skin to remove old, damaged skin cells, stimulates your body's own natural healing process, and replaces the cells with fresh, glowing, healthy skin. This "fractional" treatment of the skin allows for faster healing with visible improvements in skin tone, texture, fine lines, wrinkles and acne scarring.
The benefits of Fraxel laser skin resurfacing include:
Dramatically improved skin tone
Plumping of acne scars and surgical scars
Reduced wrinkles and fine lines
Smoother skin texture
Minimal downtime or discomfort
Because the technology is so precise, Fraxel Restore treatment works not only on the face but also on delicate skin areas like the neck, chest, and hands.
Fraxel Restore laser treatment delivers dramatic results, fast healing, and maximum safety.
Still curious? Check out our Fraxel Report.
Karen Albright, president of BodyLase®, discusses the Fraxel laser treatment
Schedule an Appointment for Fraxel at Our Cary and Raleigh Locations
Using the pulsing light of laser technology, Fraxel laser treatment corrects aged and damaged skin. It is cleared by the FDA and is the preferred method to treat scarring, melasma, and irregular skin textures. Schedule appointment today. Contact us online or at 919-954-2288 to book in our Raleigh MedSpa office and 919-851-8989 to book in our Cary MedSpa office.
*Disclaimer: Individual results may vary.