Take your mark against uneven skin texture, fine lines and wrinkles, large pores, and the diminished collagen that comes with aging.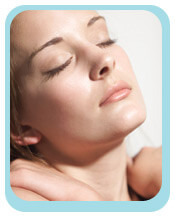 With Laser Facial, your own natural collagen is your best ally in eliminating these flaws and enhancing your skin's natural beauty. This advanced laser technology available at BodyLase® can actually stimulate the growth of new collagen in your skin.
Laser Facial is a therapeutic treatment that gently heats the upper dermis, well below your skin's surface.
The laser is used in a non-invasive manner to effect the protein collagen molecules in the dermis. This causes these molecules to shorten resulting in the growth of new collagen and the decrease in fine lines. Furthermore, pore size is minimized while textural smoothness and reflectance are enhanced.
Laser Facial also diminishes facial redness and prominent capillaries.
The laser light heats and eliminates these capillaries to reduce redness and blotchiness. While most commonly used to rejuvenate the skin on the face and neck, Laser Facial is also effective in diminishing recent scars on all parts of the body.
Laser Facial offers a gentle, subtle approach to uncover a vibrant, healthy, creamy complexion.
Patients will normally see dramatic results after a series of six treatments. The procedure itself is relaxing, and there's no need to apply anesthetic gel or ice before treatment. You can immediately return to your daily activities. At BodyLase®, we have experienced exceptional results with the combination of Laser Facial, Microdermabrasion and IPL PhotoFacial.
Discover if Laser Facial can help you achieve the skin you've always wanted.
A BodyLase® professional will evaluate your skin and customize a treatment program that is right for you. Please call for a consultation today.
Testimonial
"My laser facial was wonderful! It was painless and gave me a tighter, more youthful glow. Everyone should experience BodyLase's Laser Facial."* ~Brenda G.
Schedule an Appointment for a Laser Facial at Our Cary or Raleigh Location
Stimulate the growth of collagen in your skin by using advanced laser technology. See decreased fine lines and wrinkles, minimized pore size, and enhanced general textural smoothness after a few treatments.  To schedule your appointment, please call our Raleigh MedSpa office at 919-954-2288 or our Cary MedSpa office at 919-851-8989.
*Disclaimer: Individual results may vary.