Some of the most common complaints surrounding traditional shaving have to do with razor burn, irritation, and skin sensitivity. If these sound like issues you've experienced, you're not alone. The good news is that you don't have to rely on razors or wax for giving you the smooth skin you've always wanted. At BodyLase® Med Spa, we offer laser hair removal for all skin types. Our team is professionally trained to provide you with long-lasting results. Moreover, we offer a discount for subsequent treatments after you have completed your personalized treatment plan to help you stay hair-free for life.
What Is Laser Hair Removal?
Laser hair removal works by destroying hair follicles using controlled, yet powerful, pulses of light. The pigment in hair follicles absorbs the light projected by our laser system and the intense heat destroys it. This heating is virtually painless and does not damage the surrounding skin when administered. In order to obtain the best results with laser hair removal, it is important to use a laser suitable for your skin type. Here at BodyLase®, we can help determine the best option for you depending on your specific skin type.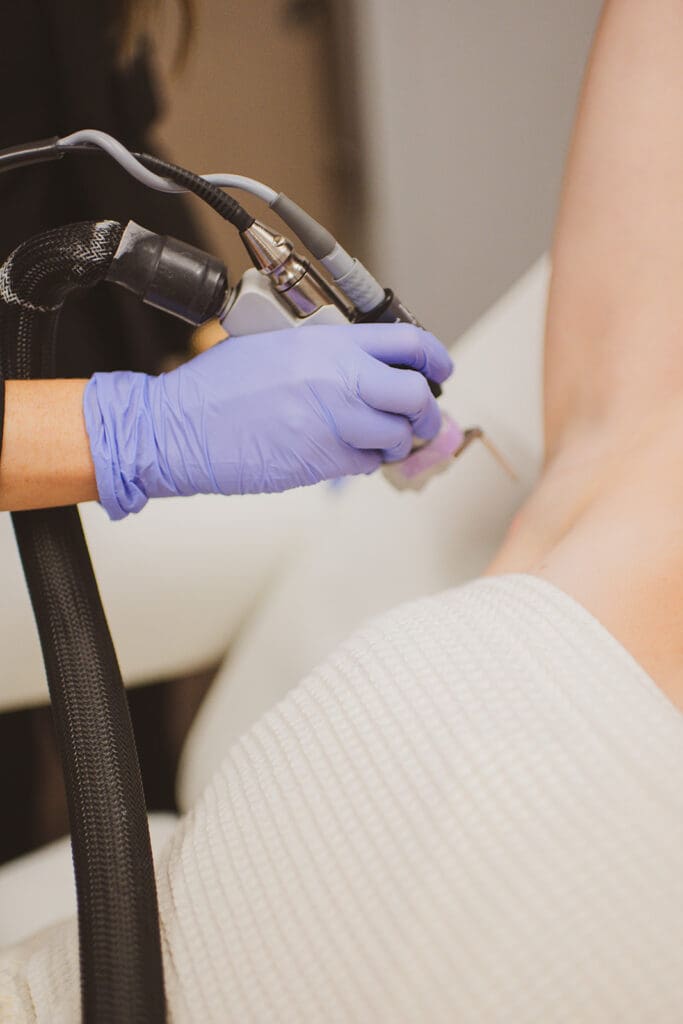 What Is the Procedure Like?
During your procedure, you will be asked to lie down in a comfortable position and may change into a robe if you wish. You will wear special goggles to protect your eyes from the laser light. At the start of your session, your provider will mark the area with a white pencil to ensure the entire area is being treated evenly. You will hear the "beep" from the laser during the treatment and notice the odor of singed hair, which is normal. Some slight discomfort may be experienced during the session, but most people describe it as tolerable. After your visit, you may experience some temporary redness. You may also sense the heat of the laser for a few hours after the treatment.
What Can I Expect From Laser Hair Removal?
Most people need 6-8 laser hair removal sessions. The laser kills the unwanted hair while it is in an active growth phase. On any given day, you are actively growing about 10-15% of your hair. Due to this, you will need 6-8 treatments spaced about 6-8 weeks apart to reduce your unwanted hair. At BodyLase®, we promise that at the end of your treatments, you will see a significant reduction in your unwanted hair.
How Much Does Laser Hair Removal Cost?
At BodyLase®, we create an individualized treatment plan with custom pricing to address your specific needs. Schedule your complimentary consultation with one of our dedicated treatment consultants today!
Our Lifetime Guarantee
The FDA defines permanent hair removal as an "85% reduction in unwanted hair". At BodyLase®, we strive to meet your expectations each and every time. Some clients may find that maintenance session done once or twice a year are ideal for keeping any tiny small "stragglers" away after completing the initial 6-8 treatments. In order to accommodate that we offer 50% off every session for life, after your initial personalized treatment plan has been completed.
Laser Hair Removal in Raleigh and Cary
If you have an excess amount of unwanted hair that you'd prefer to live without, we can help. Schedule a laser hair removal appointment today by calling (919) 954-2288 to book an appointment in our Raleigh MedSpa office or (919) 851-8989 to book in our Cary MedSpa office. You can fill out and submit the appointment form below.