The passage of time doesn't do our skin any favors! As we age, we gradually lose skin elasticity and we experience a decline in collagen. These issues result in the appearance of wrinkles, fine lines, and sagging skin. When these problems become too severe, we may be inclined to seek surgical treatments. Fortunately, alternatives in the form of radiofrequency do exist. Here at BodyLase®, we rely on the Morpheus8 RF Microneedling treatment to stimulate collagen production to give you tighter skin, fewer wrinkles, and an overall youthful complexion. Get in touch with our Raleigh or Cary, NC medspas to schedule an appointment.
What Is Morpheus8?
Morpheus8 is a minimally invasive system that works to remodel collagen while targeting the deflation of soft tissue, like aging jowls. This process targets the subdermal layers of your skin and tissue with radiofrequency energy, increasing tightness, and stimulating collagen production. The best part of choosing this device is that it can offer you visible benefits without the risk of inducing hyperpigmentation or downtime. Treatments with this RF system are safe, effective, and can provide long-lasting results.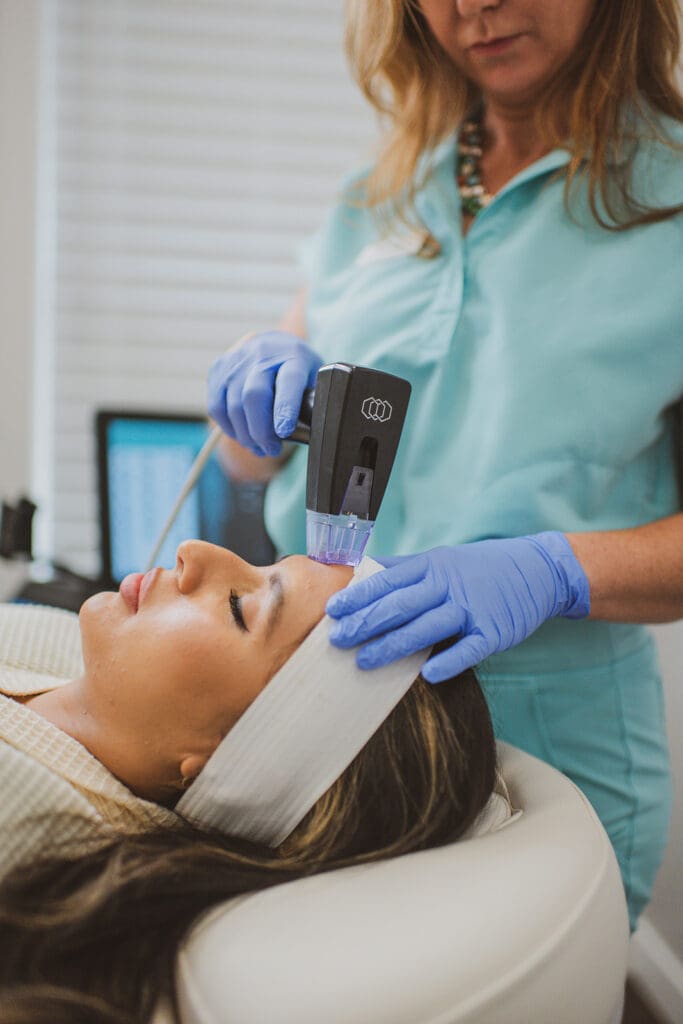 What Does Morpheus8 RF Microneedling Address?
By penetrating deep into subdermal skin layers, the Morpheus8 can effectively alleviate a range of aging signs. Thanks to the Morpheus8, sagging skin and wrinkles can quickly become a thing of the past! The heat associated with Radiofrequency has also shown excellent results in the treatment of active acne and breakouts. Moreover, the gentle function of this system reduces the risk of any potential side effects such as brown spots. Treatments are safe, effective, and require no downtime.
What Can I Expect During and After Treatment?
Morpheus8 combines radiofrequency technology with microneedling, and fractional treatments. During your session, the needles of the device's handpiece will penetrate your skin and heat the underlying tissue, stimulating collagen production. What makes this treatment different from other needling treatments is the depth of penetration. Morpheus8 is the only treatment that can mold fat under the skin to obtain optimal results. The length of the treatment with this device depends on your specific needs, but most sessions take about 30-60 minutes. After your session, you might experience some redness and slight soreness for about 24-48 hours. Any swelling around the treated areas should last only 1-2 days and is usually minimal. You will begin to see results in about three weeks' time, while your results will continue to improve for 3-6 months post-treatment.
How Much Do Morpheus8 Treatments Cost?
At BodyLase®, we create an individualized treatment plan with custom pricing to address your specific needs. Schedule your complimentary consultation with one of our dedicated treatment consultants today!
Before and After Photos
Morpheus8 Treatments in North Carolina
Wave goodbye to sagging skin and hello to a beautiful new you here at BodyLase®! To get started and try our radiofrequency options, simply call (919) 954-2288 to book an appointment in our Raleigh MedSpa office or (919) 851-8989 to book in our Cary MedSpa office. You can also fill out and submit the appointment form below for email booking.